July 21, 2005
We spent the morning catching up on our journal and we were able to update the website with a wireless connection from the hotel whose parking lot we were camped in. We hit the road around 11:00am and enjoyed the relatively traffic-free highways. We were headed for Puerto La Cruz to catch the ferry to Isla Margarita. We stopped for lunch in a field off the road and watched a storm approach. We finished up quickly and hoped that we could outrun the rain. We were doing pretty well until we reached a small town about 20 miles from our destination. All of a sudden, we were directed off the main highway onto a detour WAY out of town. Of course, the road was dirt and that's when the rain hit. We were traveling very slowly because of the quality of the road, but the rain turned our nice clean expedition vehicle into a muddy mess. Oh well, we'll clean it up when we can.
| | |
| --- | --- |
| We finally reached Puerto La Cruz at about 5:00pm. As luck would have it, the ferry that we wanted to catch didn't leave till 7:00pm. By taking a night ferry way we hoped to take advantage of being able to travel at night rather than spending another day driving. The process to board the ferry was no easy feat, however. First we had to fill out a form at a special booth for the vehicle and the vehicle had to be measured. Next we had to go inside and pay for our tickets. Except that the man in the little booth hadn't forwarded our paperwork inside. After several trips back and forth and some frustration on both sides, we received our tickets and were allowed to board the 7:00pm ferry. But we weren't sure until we were actually on the boat that we were going to make it. | |
The trip itself was uneventful and actually quite boring. Because it was dark, we couldn't enjoy the ocean ride, so we contented ourselves with snacks snagged from the Fuso before it was packed in like a sardine below deck, and reading our books. By the end of 4-1/2 hours our behinds were numb and we were ready to get off the boat.
Thinking that we would just park at the port since it was 11:30pm, we were disappointed to find no real parking area. So off we were into the unknown in the dark. We thought maybe we could stay in a gas station. But they were either on the wrong side of the highway with no turnaround, or they were closed (and gated so you couldn't enter).
After being turned away from a couple of spots, we finally found a casino with a big parking lot at 1:30am. We parked, showered and hit the hay only to be awakened at 4:00am by the security guard who wanted us to move. Fine. We moved right outside their gate and parked until we awoke at 8:30am.
July 22, 2005
After our very eventful evening we were really exhausted. But after leaving the casino, we found a nice beach and made breakfast. We felt better after eating, so we went into the city of Porlamar and found a money changer and a grocery store. Things were once again right with the world.
We spent the day sightseeing around the island. Isla Margarita boasts a rich and colorful spectrum of habitats, from mangrove swamps to mountainous cloud forest and extensive semi-desert. It features two fine Spanish forts and one of the oldest churches in the country. We visited one of the forts and the church. All around the church were vendors selling hundreds of different types of "Marys" and others were selling flowers for the faithful to place as offerings at the shrine.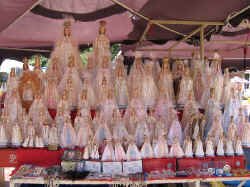 We finished our day at the Parque Nacional Laguna de la Restinga. The lagoon provides habitat for many different animals, birds and fish and provides a living for the cooperative of boatmen who give tours of the lagoon and the surrounding mangroves. The cooperative was kind enough to let us park in their parking lot for the night, and we were able to sit on their dock and watch the evening birds. We even got to see yellow-shouldered parrots; the island is one of the few places to see them.
July 23, 2005
We arose early this morning and found a spot just down the road to launch our kayak. We paddled around the lagoon and found a couple of little side channels to explore. We saw a couple of different types of herons, pelicans, cormorants, a caracara and an osprey. We saw flocks of parrots flying overhead and could easily hear their squawking. We also saw lots of crabs crawling on the exposed mangrove roots, clusters of oysters hanging below the waterline and lots of starfish.
After cleaning up our kayak, we continued our drive around the island and found a beautiful deserted beach. The landscape was totally different from what we had been seeing on the mainland and it was very similar to our home in Prescott, Arizona (other than the beach). Lots of cactus, low lying vegetation and wide-spreading, thorny trees. We also saw some birds we identified as bobwhites and lots and lots of lizards. We spent a wonderful afternoon relaxing and catching up on chores like laundry.
July 24, 2005
| | |
| --- | --- |
| | This morning we continued our relaxing ways, walking on the beach and checking out tide pools. Around lunchtime, we decided to finish our circle around the island and then catch the ferry back. We stopped at a different beach for lunch and while we were cleaning up, a parakeet landed on our screen door. It stayed for several minutes, climbing up and down, before flying away. Even though we got a couple of good photos of it, we have been unable to identify it. It doesn't look like any of the birds in our books, but it sure looks like the parakeets we had as pets when we were kids. We've decided to call him our good luck bird, as many cultures claim that birds and bats that fly into their homes bring them good luck. Maybe this will help us to secure a space on the returning ferry. |
Returning to the ferry port early, (because we are considered "cargo" we couldn't make reservations) we were surprised to find a ferry returning to Puerto La Cruz two hours earlier than we expected. This caught us off-guard and we we rushed around trying to finish up everything that we needed to do before putting the vehicle on the ferry. This ferry was different in that the vehicle was stored outside on deck and we were able to remain with it. That meant we could still cook dinner, work on the computer and read in comfort. What a change from the trip over! This ferry is also different in the way that vehicles are loaded on board. After we drove into the hold, we were directed onto a lift (like a giant elevator) that brought us and our Fuso up onto the deck of the ferry, where we had to negotiate into a small space next to other vehicles. As I write this we are about to come into port and it has been a pleasant 4-1/2 hour journey.
July 25, 2005
We spent last night parked in the parking lot at the port. It was about 11:00pm when we finally rolled off the boat and we didn't want to go looking for a place to stay. We knew from our previous visit that we could pay to park, so we got a ticket at the entrance and paid $2.50US to park for the night. It was actually not a bad spot at all.
After doing some grocery shopping, we headed off toward the town of Cumana which is along the northern coast. The drive was beautiful as it crosses another national park, Parque Nacional Mochima. Just as we reached the park's renowned beaches, the traffic came to a grinding halt. Seeing smoke up ahead, we assumed that there had been an accident. After sitting for more than a few minutes, we decided to see just what the problem was. Don got out and walked down to where the smoke was. It turned out to be a demonstration. People had blocked the highway in both directions and the smoke was from the tires they were burning to further block the road. After waiting for about an hour and a half, we decided to check with the local police as to how long they thought the protest might last. The policeman told us that the people we very angry (unfortunately our Spanish isn't good enough to understand the reasons) and that the protest could go on all day. Just at that point several people started to try and break up the roadblock but were stopped by the people manning it. More tires were added to the burning piles so we decided to change our direction and head back the way we came and then south to Ciudad Bolivar. While we recognize the right of people to demonstrate to show their dissatisfaction, we don't feel that they should infringe on the rights of others while they do it. We could have waited the protest out, but unlike the protest we witnessed in Caracas, there was no guarantee of when it would end. So we changed our plans and ultimately we will miss out seeing some of the things we had wanted to see. We will detour instead to Ciudad Bolivar so that we can travel earlier to Angel Falls, the tallest freefalling waterfall in the world.