August 5
Driving into Santa Elena we were expecting anther KM 88 dirty mining supply town, but were surprised to find a clean, safe community. The first thing we noticed was the long line of vehicles parked on both sides of the road. The lines stretched for quite a ways down the street, and it turned out that all the vehicles were waiting in line for fuel at the gas stations. Apparently many Brazilians cross the border to fill up their vehicle tanks due to the cheap price of fuel in Venezuela. We felt that there was no way that Brazil could offer its fuel as cheaply as does Venezuela so we figure we'll have to join a line as well.
But first thing is our visas. The Brazilian Consulate is located in a converted house right across the street from one of the gas stations, so it could be convenient for us. After waiting an hour for the consulate to open, we received good news, yes, we could get our visas here and yes, we could have them by the end of the day, AND we were given a five year multiple entry visa. Yeah! Now we can cross into Brazil tomorrow for our long drive to Manaus. Since we have the day to spend, its a good day for chores, so we dropped off our laundry to be done and went shopping for food. There were no supermercados in town, so went up and down the streets stopping in various stores and multiple butcher shops, even buying a few things at the outdoor market until we filled up our supplies enough to last us to Manaus. Even so, we don't have much extra.
At the end of the day, we joined the queue at the gas station to get our diesel fuel. There are two sets of pumps with two lines. The more expensive pump is for Brazilian vehicles and the less expensive for locals. Since we have been in Venezuela for the past couple of weeks getting fuel at local prices we naturally got in line for the cheap gas. However once we got to the pump, the soldier "guarding" it insisted that all international vehicles had to pay the higher price for fuel. We disagreed, and after we started pumping the low cost diesel despite his objections, he walked away and let us finish. This did cause a bit of a stir at the station, but mostly by people just laughing over the argument.
Tonight we made camp in front of the Guardia Nacional offices just off the main street. We're getting very comfortable about street camping, and here it usually gets quiet by about 10pm.
August 6
We got up early today for yet another border crossing, but our first in South America. The border is about fifteen minutes south of town, and when we arrived a soldier stopped us for a quick inspection/look inside the living quarters to see what it was. This is common as they just don't know what to make of us - truck or what? He looked at our Venezuela car documents and waved us through. We didn't realize it right away, but that was apparently the border, we didn't even get our passports stamped or surrendered our vehicle permit.
Arriving at the Brazil border post, we parked and went to get at the end of a long line of people waiting at a closed office. It is very common in developing countries to have to wait for people to get around to doing their job. While Kim saved our place in line, Don went off to find out how to import the Fuso. Carrying our new lifeline, the Lonely Planet Brazilian Portuguese Phrasebook, Don found another office where the immigration officer stamped our passports and welcomed us into Brazil. We never found out what the other closed office/long line was for.
Another 50 yards down the road was the customs building where we stopped to get our new vehicle documents. The customs official never even looked inside the vehicle, but did ask us if our fuel containers were full. We said that we didn't have any gas. We suspected that they might have made us pay some import duty on the fuel since the price in Brazil is about 39 times more expense than in Venezuela. Our first fill up cost about $3.37/gal, 89 cents/liter as compared to 8.2 cents/gal, 2.2 cents/liter in Venezuela.
We provided the customs officer with our Venezuela vehicle documents to help speed the import process, this way she could copy most of the necessary information from the old forms. The only twist here was that we were asked a value for the Fuso, so that they could calculate the tax that we would owe if we sold it in Brazil. The crossing was very quick, it only took us about an hour to cross both borders, get our paperwork and be on our way.
Over the next three days we have lots of driving ahead of us. We have to travel 1,019 km/631 miles to reach the Amazon River and the city of Manaus. We will be driving through two states, Roraima and Amazonas, on the only paved road in the region.
| | |
| --- | --- |
| The first thing we noticed while driving was the bird life. Since crossing the border we have seen more birds and more types of birds than we had seen in most of Venezuela. The land is different as well, we are out of the savanna and into swampy grasslands with more hills. Driving south we crossed over lots of rivers and streams, fortunately we are crossing over bridges that are only about 15 years old. Right next to the bridges we cross over are the remains of the original, very old and rickety wooden bridges. The old roads accessing these bridges look like they would make for good camping spots, and we decided to use one for our lunch stop. | |
All along the roadway are fences holding back the cattle from the many ranches we pass. As there are few trees in this area, the fence posts, as well as the telephone and power poles, are covered with a varied display of termite mounds. Even mounds of grass have been converted into conical termite mounds. This is pretty country and we enjoy watching the landscape go by, however we both have to watch the roads as there are bumps and depressions along with too many potholes to count. We have become experts at a new sport, slalom driving. Both lanes of the highway get utilized as we zigzag back and forth avoiding the obstructions.
We arrive in Boa Vista, the capital of Roraima State in early afternoon and start looking for markets to stock up our bare cupboards. More important, we have to find a bank that will take our ATM cards so that we can get some cash, with the high price of fuel we will be spend lots more money than we have during the last few weeks. After taking a couple of wrong turns, and asking for directions, we manage to get to the downtown area without finding any banks. Finally we do locate a couple of banks, and luckily they accept one of our three bank cards. Since we have the time, we decide to drive another hour south before looking for a bush camp. We hoped to find a spot along a river that parallels the highway (according to our map) but we don't spot the river for 30 miles, and even then we can't find a camp spot. We do find some larger parking areas in the town of Mucajai but decide to pass on them in favor of something more quiet. A ways out of town, we find a cattle ranch and ask the workers if we can camp for the night. They aren't sure, but the owner comes by a little later and welcomes us to Brazil and says no problem to camp.
August 7
We started our morning drive in a pouring-down rainstorm and had to be extra careful about the potholes, because once they are filled with water, they are really hard to see. The rain came and went all morning, and we had good stretches of road intermingled with pot-holed strewn sections.
The drive was occasionally broken up by other vehicles either coming towards us or vehicles passing us. We always attract lots of attention on the road, but today we had a laugh when one of the vehicles passing us stuck a camera backwards out the passenger window and took our picture. It reminded us of the saying "take a picture, it lasts longer". We chuckled about that for quite a while.
In the mid afternoon, we hit a milestone of the trip: We crossed the equator! Using our GPS device, we counted down the numbers and stopped the vehicle at a monument sitting exactly at 000 00.00, 060 38.97 W. We wandered around for a few minutes, took a couple of pictures, answered some questions from some Venezuelan tourists about the Fuso, and once again hit the road.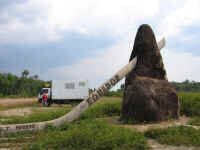 We were under a time constraint now, because we were coming up to the Terra Indigena Waimiri Atroari. This is an indigenous reserve set aside for the Waimiri people. In 1974, the land was fiercely defended against construction of the road we were about to drive upon. More than 200 soldiers were killed by poison arrows, but casualties on the Indian side were a lot higher. From a population of 1,500 in 1974, the Waimiri's numbers were reduced to a mere 374 in 1986, when they finally agreed to negotiate with the government about construction of the road. The final agreement does not allow drivers to get out of their vehicles and the road through the reserve is closed between 6pm and 6am. Due to the condition of the road and a now approaching rainstorm, we knew we would be driving slowly and we had 70 miles to cover before we were out of the reserve.
During our drive in and out of rainstorms, we were fortunate to see some of the Waimiri people, who returned our waves, and gave us the Brazilian OK of the "thumbs up" sign. We even saw one of them carrying a bow and arrows. We were also very fortunate to spot two yellow and blue macaws. These big birds only live in the Amazonas area and are magnificent, beautiful birds. As we passed into Amazonas state from Roraima state, the quality of the road improved and we were able to drive a little faster. As it was, we completed our drive through the reserve with only 10 minutes to spare. We don't know what would have happened if we were through by 6pm, but we didn't want to find out. Immediately after the reserve we found an open area, hidden from the road and a perfect camping spot.
August 8
First thing in the morning, we took our binoculars and went in search of birds. We were lucky to see some more blue and yellow macaws and we also spotted two scarlet macaws. We also saw a couple of wood storks and a species of duck that we couldn't identify. While walking along the road, we heard a sound that was something like running water. We looked around but couldn't determine what it was. All of a sudden, we were enveloped in a major downpour - oh, so that was the sound! We turned and ran back a couple hundred yards to the shelter of the Fuso.
Because we had driven so far the day before, we didn't have to rush as much today, so we decided to stop near a small town about 100km from Manaus to visit a waterfall. We paid a nominal entrance fee and drove four km down the road to a parking area. From there we hiked another 1/2km to the top of a cascade and then down a wooden walkway, through a large crack in a boulder and out to an area where we could swim right up to the bottom of a waterfall. The majority of the waterway was water running only a few inches over a rock ledge, so we could walk quite a ways out in front of the waterfall as well. We spent about an hour at the waterfall before having lunch and returning to the road. After all the driving we've been doing it was nice to take a break.
Finally arriving in Manaus mid afternoon, we once again started looking for a bank. We knew that we would need quite a bit of money for the river trip from Manaus to Belem and we are limited in how much money we can get every day from the ATM. So we needed to start stocking up. Manaus is a very large city and the only map we had was the one of the central area supplied in our Lonely Planet Guidebook. We tried following the signs in town, but that proved to be difficult and once point we found ourselves not only lost, but heading back in the same direction we just come from. The streets don't go in straight lines and one way streets often prevent you from turning the direction you want to go. Fortunately we have a compass and eventually we were once again heading in the right direction. One of the surprising things though, was with all our driving around, we never passed a bank. We finally found one in the middle of the central area but were only able to access it after double parking on the street and moving the Fuso a couple of times while Don ran in to utilize the ATM.
Heading back out of the center of town, we found a parking lot nestled between the soccer stadium, the university and a police station. The security guards from the university gave us permission to park and we were set for the next two nights.
August 9
In the morning, we walked out to the main road into town and caught a bus into the centro. We took it to the end of line at the port and immediately went in search of information on barges down the Amazon. We stopped at Amazon Explorers and met Iralcy, an English-speaking guide who helped us with information and very kindly loaned us his map of Manaus. Based on information from him, we set off across town on another bus to a different port. This bus was not nearly as direct as the first one this morning and after many turns and stops we finally arrived at the port about an hour later. At this point we were tired and hungry, but we immediately found a restaurant and had our first Brazilian food and Brazilian beer. Umm, yummy.
After lunch, we met another English-speaker, Sammy, who helped us find a barge company to ship the Fuso to Belem. This took some negotiating and another trip on a taxi across town to the main headquarters of the shipping company, but we are set to ship out the day after tomorrow, in the evening.
August 10
Today was our day to finally get to explore Manaus. Once again we took the bus into the centro. We visited the famous opera house, the Teatro Amazonsas, that opened in 1896. The theatre was built during the height of the rubber boom and symbolizes the opulence that was once Manaus. The artists and most of the materials were imported from Europe, but one truly homespun feature was the roadway outside the entrance that was made of rubber so that late-arriving carriages wouldn't create too much noise.
| | |
| --- | --- |
| | We then wandered around the boat docks where the ferry boats that carry passengers and cargo load up. It was a very hectic and crowded scene with travelers stringing up hammocks on the open decks of the boats, and men carrying on their backs everything from packages of diapers to eggs, to load in the holds and bottom decks of the boats. Most of the towns along of the river are only accessed from boats and all of their supplies also come that way. We even saw a freezer being loaded onto a boat. |
After the hectic scene at the port, we decided to have lunch. We stopped at a restaurant nestled between the port and the market and had a decidedly Brazilian meal that was served buffet style and paid for by weight. We had some wonderful grilled pork cut right off the skewer added to our rice and beans and "vinagrette" salad.
| | |
| --- | --- |
| After lunch we headed to the Mercado Municipal Adolfo Lisboa which is the cast-iron city market opened in 1882. It is a copy in miniature of Paris' famed Les Halles market with the Art Nouveau ironwork imported from Europe. It is mostly just a tourist attraction with vendors selling all type of souvenirs and indigenous made articles. However just down the street we found the true market, with hundreds of vendors selling produce, fruit, meat and tons of fresh fish right from the rivers. Here we stocked up on fruit and vegetables for our trip down the Amazon which is scheduled to take four days. | |
Carrying our heavy purchases, we headed back to the bus stop and on to our Fuso. We also decided to visit a different part of Manuas until we need to board the barge so we headed off to Punta Negra, which is a more upscale part of town along the banks of the Rio Negro. We discovered a planned community with beautiful high rise condominiums overlooking the river and lots of parking along a riverside parkway. We found a quiet spot to park and enjoyed people watching and the sunset. We even got lucky at an upscale resort in town, a free wireless internet connection!
August 11
Later this afternoon we are scheduled to load ourselves and our Fuso onto a barge for a trip down the Amazon River and across the delta to Belem. From what we can gather, information seems to be at a premium, the trip will last either three, four or even five nights. Hopefully we will get some better intel when we get to the port. We hope to be able to string up our hammocks, read, eat and maybe do some delayed odds and ends that need to be done to the expedition vehicle.