October 23-29, 2006 Down to the Amazon and back
We arrived back in Quito last night and tried to put everything away so that we would have room to move around. We were able to stow everything except for the snorkel equipment which was still damp. We then headed across the street for a very nice seafood dinner.
The next morning we spent some time driving around Quito trying to find a supermarket. The first one we found didn't have a big enough parking area. The second one involved a further drive, but included parking. Chores done, we finally headed out of Quito, typically, taking a few wrong turns as there are never any signs to guide us. Finally we found all the right roads and headed up into the Andes once again. The drive was beautiful and the road was paved until right before Papallacta, our final destination for the day at over 10,000 ft elevation (3,300mt).
The Papallacta area is known for being on the edge between the Andes and the jungle. After Papallacta you start heading down in elevation toward the Amazon river valley. It is also known for its hot springs, especially the balneario, Termas Papallacta. These springs are scenically located in a canyon, on a river and are considered the most beautiful in Ecuador. The pools have varying temperatures and sizes, so there is pretty much something for everyone. We spent half our time there in a large pool with a nice temperature and half our time in a small pool located right next to the river with a slightly higher temperature. It was absolutely gorgeous.
Before entering the balneario, we had asked a uniformed attendant if we could park for the night. Receiving an affirmative answer, we found a spot out of the way and put out our stairs. After our stay in the hot springs, it started to rain so we put out our shade as rain protection and set up our table and barbecue. After a relaxing evening, we went to bed. At 10:00, there was a knock on our door. We opened it to find security guards, who informed us that we could not park for the night, as it was not allowed. We explained to them that we had gotten permission, but they said we needed to talk to the big boss. So a few minutes later the big boss came out and informed us that well, we can stay, but it will cost us $12.00. We didn't think we should have to pay as no one had informed us there was a fee and we would have had to close everything up and where were we going to go at 10:00 at night? So we opted to stay and hash it all out in the morning.
In the morning, we insisted on speaking to the person who gave us permission the day before. His response, "oops, sorry for the bad information." So even after explaining the situation, telling them that we had already paid $12.00 entry for the balneario, and oh, by the way, you had 6 hours earlier to tell us that we couldn't stay, the assistant manager (the manager wouldn't even speak to us) insisted that we pay an additional $12.00 for spending the night parked in their parking lot (we received no other services). Because "you could have left at 10:00". Needless to say, the place was beautiful but the management and their customer service techniques were very disappointing.
We finally continued on our way, alternating between pavement and dirt (rock) road, making our way down from the Andes to the jungle. We passed lots of waterfalls and a lot of areas where the mountainside had slid, oftentimes taking out the road. At lunchtime we stopped at the entrance to a reserve and on a short walk, saw quite a few beautiful birds. The last two hours drive were on an extremely rocky road, but we finally arrived in the jungle town of Tena. We found a hostal with a parking area and conveniently they also offered river rafting trips, one of the reasons we had come here. We quickly set up a trip on a Class III river for the next day and went into town to run errands.
| | |
| --- | --- |
| | The next morning our guide loaded up the raft and equipment and we headed off to the Rio Jatunyacu. After arriving at the river we put on our life jackets and helmets, grabbed our paddles and were given a safety briefing, in Spanish. All of our paddling instructions were also in Spanish. I hope I'll know what to do when I need to do it. We quickly hit our first big water and were drenched. Our guide, Juan, wanted to make sure that our day was exciting so he made sure he hit every rock and hole on the river to guarantee that we would be rocking and rolling and soaked. And to make sure we weren't afraid of falling in the water, he periodically pushed or pulled each of us in. We had a great time. |
The next day, we were both sore from our outing, so we decided to take it easy. We moved from the hostal to a town further into the jungle called Puerto Misahualli. We found a restaurant for lunch right on the square where we could watch the monkeys at play in the park. These monkeys have developed a reputation for thievery and as we were watching, they stole a hat right off a park bench.
We found a fabulous camp spot right on the shores at the confluence of the Rios Misahualli and Napo. We then took a hike into the jungle looking for birds and butterflies. We saw lots of butterflies and not too many birds, but the walk was full of interesting bird and insect sounds. We did see an interesting new bird that, because we don't have the correct book for this area, we can't identify, but it was a large raptor-type bird with an orange face and legs. It also made a very loud screeching noise and we quickly dubbed it the orange screamer.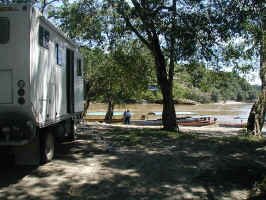 Returning to our camp spot, we sat and watched the boats come and go until the sand flies drove us inside. Our timing was good however, as shortly after we went into the Fuso, the wind came up and the black clouds we had been watching let loose. The wind and rain were fierce enough to knock out the electricity in Misahualli and the ensuing darkness was very complete.
The next morning we were up very early for a boat ride to a town where a farmer has set up a salt lick on his property to attract parrots. Our boat ride was uneventful, but when we arrived at the village where the farm is, the farmer's grandson wanted $10.00us to guide us on a ten minute walk to the farm. We tried to negotiate for a better price, but he wasn't interested if he couldn't get the $10.00. So we walked away and he made nothing. We were disappointed, but as our boat guide said, we can't let people think that tourists are made of money and will pay any amount they ask.
Since we couldn't see the salt lick, we decided to visit the butterfly farm in town. We had tour by a volunteer who showed us how she collects the eggs, puts them on leaves in the "incubators" and they develop into caterpillars who spin cocoons and develop into butterflies. We then went into the butterfly garden to observe the grown butterflies. At the time of our visit, there were eight species of butterflies in the garden and they were all beautiful. I don't know how many butterflies we saw, but there were many. We enjoyed our visit very much.
We decided to continue our trip back north the way we came. Going up in elevation brought colder weather and rain. The road turned muddy and we not only had to negotiate rocks, but water filled holes as well and avoid falling rocks and mud. We once again spent the night in Papallacta, but this time we asked permission to park in the church square. Permission was received and we spent a quiet night.
In the morning we awoke to find yet another flat tire. We have been very happy with our Yokohama tires, but we have given them a severe test through more than 36,000 miles (58,000 kms). Our tires are now worn down to their minimum tread height and this time, a rock had broken through the metal ply making repair not possible. Fortunately we carry two spare tires so this isn't a major concern.
| | |
| --- | --- |
| Our destination today is the mountain town of Otavalo where the indigenous population of Otavaleños have a large market every Saturday. Arriving in the afternoon, we wandered around the streets viewing both the weavings and other tourist kitsch for sale while taking time to view the Otavaleños wearing their traditional dress. The women, who are the main business sellers, wear embroidered white blouses and long black skirts. Many older women also wear a folded cloth as a headdress. Many of the men wear their hair in ponytails, while the older men wear the traditional calf length white pants, white sandals and ponchos. We bought a few items, then made a dash back to the Fuso as it began raining. Just north of the main plaza we found a large secure parking lot where we could camp for the night, a great find. | |
Otavalo is such a nice place that we decided to just hang out for another day. We did a few chores around the Fuso then walked across town to the main market area. We bought our staples such as eggs and cheese, then sought out the meat vendors where we could buy food for the next three or four days. We bought a chicken (not live), some pork chops and ribs, and some vegetables. So much is available in the markets that the only time we visit a "supermarket" is when we need lots of packaged goods.
We visited an internet cafe to update the website and had lunch at a traditional Otavaleño restaurant. While we waited for our meals, we were surprised when a group of 6 Otavaleño men came in with their instruments and started performing. Using traditional bamboo flutes, a drum, a 13 string guitar, a violin and a 12 string mandolin-type instrument the band played Andean songs for us. It was a real treat on our last full day in Ecuador.
The next morning we set out for the Ecuador/Colombian border crossing. Our drive took us up and down the mountains again, this time crossing through a river valley populated by descendants of African slaves brought here by the Spanish to work on the plantations. To come here right after visiting an Andean indigenous town and to see the two different cultures living so close to each other was very interesting.
Our last Ecuadorean stop was at the town of Tulcán, about 6 kms from the border. The town itself is not very different from other towns here, the reason we visited was to see their cemetery. Yes it does seem a strange place to visit, but the municipal cemetery has become an attraction because of its huge topiary garden. All around the cemetery, the bushes, trees and shrubs have been trained, trimmed and sculpted into animal, people and geometric shapes. It is very beautiful and more than a bit fanciful - and it is in a cemetery.
Then onward to the border. Actually it was pretty much uneventful. Ecuador immigation officals stamped our passports (although they were surprised to find our entry stamp from the remote border crossing at La Balsa), surrendered our temporary vehicle permit to Aduanas (Customs) and drove across the border. (Continued on the next journal entry)