October 13-14, 2006 Quito
Driving into Quito turned out to be a bit more difficult than we were hoping. Following what we thought was a bypass was a good idea as it actually did bypass the southern entry into Quito which is where the "old town", the colonial part of the city is and where the really narrow streets are to be found. However the roads we chose again failed to have any directional signs and we found ourselves dumped into the city heading right back into the old town. We made a try to find our own way, but wisely decided to flag down a taxi and have the driver guide us to our secure parking. We were really surprised to find that we were still a long way across town and knew we would never have found our own way.
Once we finally got to the Hotel Quito, we negotiated a reasonable fee for parking our Fuso in their parking lot for the next nine days while we visited Quito and the Galapagos Islands. Then we did some mundane chores, like dropping off our clothes at a laundry and visiting our travel agent to pick up our tickets for our Galapagos trip. Afterwards, we stopped off at a wine bar only to find that there was a three day prohibition on the sale of any alcohol until after the Presidential election on Sunday. We didn't really understand why it needed to be three days, but that is the custom in Ecuador. But on the other hand, we were able to find a store that sold DVDs that would play on our computer. Now we can have a weekly movie night. As we headed back to our city camp, the skies opened up and we were on the receiving end of the worst rain storm of this expedition.
In the morning our first order of business was to defrost our refrigerator so that it wouldn't do it automatically, and make a mess while we were gone during the next week. When it was finished, we set off to explore the very interesting and beautiful "old town" Quito. Taxis are very inexpensive due to the low price of fuel, and we were driven across town for about $2.00. Using a walking tour supplied by our guide book, we visited the Plaza de Independencia which contains the Cathedral and the Palace of the Government, the Plaza and Monastery of San Francisco, the historic alley of La Ronda, which is full of colonial, balconied buildings and is being restored, the Plaza and Iglesia de Santa Domingo and the Simon Bolivar monument. After lunch we visited the Parque El Ejido which was filled with vendors selling art and handicrafts.
On our return trip to the Fuso, we picked up our laundry, more DVDs, had a nice cup of coffee when it decided to rain and eventually made it back to the truck ready to pack for our upcoming adventure to the Galapagos.
October 15-22, 2006 Galapagos Islands!
On our first day we were picked up early in the morning at the Hotel Quito by a representative from Columbus Travel, the agency that handled our reservations for us. Our flight to the Galapagos was uneventful, with a stop in Guayaquil, Ecuador's largest city, along the way.
We arrived at Baltra in the Galapagos at 12:30pm where we collected our luggage. Expecting a representative from our boat "Eden" to meet us at the airport, we waited around, meeting other Eden guests who were also waiting around. Eventually, a cargo truck arrived announcing they were from the Eden and packed our luggage into the back. Everyone was a little leery of this, but we decided it was okay. We gathered from the man on the truck that a bus would pick us up shortly. Eventually a bus arrived that did take us (and guests from another boat) to the pier where we could see the Eden moored off shore. There was still no information and no coordination forthcoming and we were a little worried about what this meant for the rest of the trip. Eventually a launch (panga) arrived with the name Eden on it and we got on.
When we arrived at the boat, we could see that our bags had been safely delivered, but there still wasn't any information forthcoming. Eventually, one of the employees (Osvaldo, the bartender) took us into the common room and explained in his halting English what was going on. It turned out that because it was election day, our guide was unable to make his regular flight from a neighboring island and was running late. We were then given our room assignments and allowed to settle in.
After being served a wonderful lunch, our guide, Raul, arrived and gave us our first briefing.
In the afternoon we headed to our first stop at Bachas beach which was only about an hour away. We were able to swim and enjoy the bright red and blue Sally Lightfoot crabs and some marine iguanas. There was also a small lagoon with flamingos and white cheeked pintail ducks. Yes, we are making a list of all the wildlife we see on the islands as many are endemic to the Galapagos. We'll also be posting a page of our favorite photos from each day of this adventure.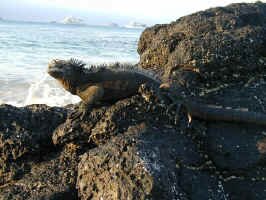 The next morning we awoke at a new island and were up for breakfast at 7:00. This would be our general schedule for the next week, motoring to a new island during the night, exploring an island during the day, snorkeling or diving, then exploring a beach area in the afternoon. This first full day was a great introduction to the islands. We hiked around North Seymour Island where we visited perhaps the largest of the seabird breeding colonies in the islands. The birds and animals were so unafraid of us that we'd be tempted to say that they are tame, although they are truly wild. We saw both magnificent and great frigate birds, blue-footed boobies and swallow tailed gulls, sea lions, land and marine iguanas and the smaller lava lizards. The blue-footed boobies were mating and seemed to dance back and forth on their blue feet while making whistling sounds. The male magnificent frigate bird would inflate a red bladder on its throat in an attempt to attract a female.
| | |
| --- | --- |
| | |
After we came back from the island, we suited up to snorkel. We saw lots of colorful fish and we were joined by several playful sea lions.
Our next stop was Santa Fe Island. The attractions here were the tall Opuntia Cactus, more sea lions and the colorful marine iguana locally referred to as the Christmas Iguana due to its red coloration.
| | |
| --- | --- |
| On Espanola Island we were treated to the mating dance of the waved albatross at its only mating spot in the world. In addition to more blue-footed boobies, we met the snowy white masked boobie that lays its eggs on the ground without the use of a nest. We also got our first exciting views of the red-billed tropic bird, which does sport a red bill, but whose distinguishing feature is the elongated, streaming tail feathers. These flowing feathers more than double the size of the bird. | |
Then came Floreana Island and its lagoon sheltering more flamingos. We hiked over a hill to another beach where stingrays could be seen in the water. We didn't see any stingrays but we got a great photo of a group of visitors looking for one. Floreana is also known for a spot called Post Office Bay where old-time sailors would leave letters for home in an old water cask and other sailors heading back the other way would take these letters back to their home countries to forward on for the other sailors.
We did a scuba dive near a point called the Devil's Crown. This dive was very exciting as we saw moray and garden eels, black tip and Galapagos sharks, a stingray and a beautiful manta ray that swam in a circle around us.
Half way through our trip, our boat headed back to Santa Cruz Island to drop off four of the boat's passengers and to pick up three new ones. While we were in port, we visited the Charles Darwin Station to view the giant land tortoises that the islands are famous for. These big boys (and girls) can live for over one hundred years. Originally, each island had its own species of tortoises, with some islands having multiple subspecies each living on a separate volcano. Although the Station is similar to a zoo - it contains tortoises that were raised as pets - more importantly, it acts as a breeding station where tortoise babies are raised for several years before being reintroduced to their native island. Thousands of tortoises have been successfully released.
| | |
| --- | --- |
| | |
In the afternoon we took a bus ride to the top of Santa Cruz Island to see the difference in flora due to the rain that constantly falls on the mountain top. We also stopped off at a private tortoise reserve where we could see these giants living in a more natural setting. After dinner, our boat headed out for the overnight ride to Santiago Island.
Wading ashore after a "wet landing", where the pangas dropped us off on the beach in about six inches of water, we explored a loop trail that took us past beautiful tide pools. In some areas, lava tubes had collapsed, allowing the ocean to pop up in little pools with lava bridges crossing over them. In one pool we spotted a sea lion playing in the surging water. The main draw here were the hundreds of marine iguanas lounging in the sun, swimming in the tide pools and chowing down on their main food - algae. Finishing our walk back to the beach, we set off snorkeling in the cove. During the snorkel we found two Black or Pacific Green turtles who were so comfortable with us that we were able to take some excellent photos with our new Aquapac housing for our digital camera.
| | |
| --- | --- |
| | |
In the afternoon we motored around the island to the small Bartolome Island where we snorkeled off another nice beach. Then we went for a panga ride and saw several small Galapagos penguins, the northernmost penguin species. We then landed on a small rock jetty, stepped over a couple of sleeping sea lions, for a climb up a 108 meter volcano through a lunar landscape of pumice and lava for what is billed as the most famous view in the Galapagos. What do you think?

That night, immediately following dinner we set off again, crossing a wide space of open ocean to the island of Genovesa. During the crossing, we suffered through our roughest motoring as the sea was especially wild. We anchored in the Darwin Bay which is actually the caldera of the volcano which collapsed allowing the sea to enter. This would be our last full day in the Galapagos. We made two landings on different sides of the bay. The first dropped us at the base of a steep climb up to the top of the cliffs. Following the trail we saw loads of masked and red-footed boobies, and one of our favorites, the red-billed tropic birds.
| | |
| --- | --- |
| | |
The last landing set us on a beach with many more sea lions. The beach was beautiful and we tried to ignore the graffiti spray painted on the rocks, allegedly from ships that visited here early in the 20th Century (I meant to ask Raul why the park service didn't remove it, but I never got the chance). Wandering away from the beach, we were able to walk right up to swallow-tailed gulls, red-footed boobies and their babies as well as more frigate birds and their nests. The walk was one of the more beautiful as it wound around a small estuary lined with mangrove trees filled with countless birds and nests. It was a great ending for our trip.
But we found out the next morning that it wasn't really the finale. Our last morning we boarded our pangas for a tour through the mangroves in Black Turtle Cove. Following a small water trail behind the bay we saw more than a dozen white tipped sharks and several more turtles swimming in the shallow water. Now that was a great finale! After breakfast we bid goodbye to our crew and friends made along the way and were taken to the airport for our flight back to Quito. As seems to happen more frequently, our flight was delayed for nearly three hours. We passed our time in the airport departure lounge on wooden seats eating ham and cheese sandwiches and potato chips provided by the airline.