May 22-24, 2006 - San Pedro de Atacama and Southwest Bolivia
From our camping space, a mere three blocks from the town plaza, we did a walking tour around San Pedro. We wanted to see what the little dirt street hamlet looked like in daylight. Last night the only shops we passed were: restaurants, tour agencies, hostels and a couple of little markets, very tourist oriented. Also, we needed to find the gas station which we did find, in the middle of a large hotel complex in the center of town. This was actually pretty funny as the street signs prohibited trucks - which some police consider us to be, and the streets are barely wide enough for us to pass pedestrians without hitting them. So of course, they put the gas station in the most difficult place to get to!
Our off-beat destination today was a meteor crater that Don had read about. After all, how many times can you actually go find and explore a meteor crater? Turned out that this wasn't going to be one of them. Our directions were pretty good, although some distances were a bit off, but we followed along, traveling on roads that descended in quality from paved to sealed, then dirt and sand and finally to a high-tension powerline 4x4 road until we arrived at our GPS coordinates. But wait, where is the crater? We hiked all around and think we found it, but we could not be sure as it did not look like what we expected a meteor crater to look like. Well, the drive was great, we got to a desolate spot in the Atacama Desert and at night the stars were to die for, an excellent side adventure!
On the drive back to San Pedro de Atacama we noticed something strange about one of the volcanoes nearby - steam. We got to witness a steam eruption, isn't that cool!
| | |
| --- | --- |
| Then we visited the Laguna Chaxa to get close to two different types of flamingoes, Andean and Chilean Flamingoes. To get close, we followed pathways literally carved through the salt flats that surround the lagoon. The Saltar de Atacama is a huge depression where water drains off of the surrounding mountains getting trapped in this valley with no exit. As the water evaporates it leaves behind salt deposits. The salt crystallizes into shapes similar to coral, otherwise known as iron shore. | |
After lunch, we went to explore the Valle del Luna, San Pedro's version of a painted desert, but after driving through the entrance, we got turned back 1/2 way into the park due to road construction. Told to go in the other entrance some 25km away, we arrived there only to get turned back 1/4 way into the park this time. We decided to leave the park and just find a nice overlook to set up camp for the night. Exiting the park, we passed about 7 tour vans taking passengers into the park for sundown over the strange rock formations and dunes. We made camp on an overlook above the park enjoying a sunset uncluttered by tours.
May 25-30, 2006
We spent the morning enjoying the view and the solitude and then went into town to run some errands before heading off to Tatio Geysers. As we were leaving town, we ran into the bicyclists that we had met in the Paso de Sico. They were really happy to have made it to San Pedro and were looking forward to 5-10 days of rest before setting out again. Bicycling seems to be a really intense way of traveling and I guess you have to really love it to subject yourself to the hardships of high elevation, exertion, cold, towns few and far between and oh yeah, where do you find water in the desert?
The drive to the geyser field was 84km of mostly dirt road. The scenery was gorgeous and the road wasn't too awful. We saw lots of vicuna (another type of camelid) and more greater rheas, which we hadn't seen for quite a while. We also passed another steaming volcano and on this one we could see right into the crater as it apparently had blown a little to the side when it had last erupted.
We continued our drive going up and up and finally reached the geyser field at over 14,000 ft! As we expected, there was absolutely no one else there, as the tours all come out early in the morning. We arrived at about 4:00pm and wandered around until the sun went down around 6:00pm. We had a great time exploring and the color at sunset was wonderful. We hiked around a handful of geysers that were spewing jets of water up about 3 to 5 feet into the air. We also saw some fumaroles and a mud pot. The El Tatio Geyser field is the largest such field in South America and the third largest field in the world, following Yellowstone, USA and Dolina Geirerov, Russia.
| | |
| --- | --- |
| | |
We got up early in the morning and beat the tour groups out to the geysers. It was very cold, we even had ice on our windows again, but we wrapped ourselves up and spent a couple of hours admiring the huge plumes of steam that the geysers sent out into the cold air. Every steam vent regardless of how small, added to the overall steamy view, creating a somewhat hellish effect.
Within 30 minutes of sunrise there were lots of tour buses, we think we counted thirteen. The park has been abused over the years and there are lots of tire tracks throughout the geyser field. People are allowed to walk anywhere, although they are warned of the dangers by numerous signs. The tour bus drivers seem to be getting a little more aware of the impact they are having in the park, so they have marked roads for people to drive and they no longer boil eggs in the small bubbling pools, but they do still warm their containers of milk in them.
Using a report on the El Taito Geyser Field published by J. Alan Glennon at the University of California, Santa Barbara, we located the main geysers and found that several had ceased to be active. We also learned about the various names for the various erupting springs, geysers, perpetual spouters, non-erupting springs, fumaroles and mud pots. All of these features spewed hot water, which in conjunction with nearly freezing temperatures created huge clouds of steam.
After exploring, we returned to the Fuso, had breakfast and by the time we were done cleaning up, the tours were all gone and we had the place once again to ourselves. What a great experience! We returned to San Pedro later that afternoon and found a great camp spot 3km outside of town in a canyon right off the highway called Cordillera del Sal.
We tried to get an early start the next morning as we headed off for Bolivia, but first we had to wake up the immigration person to stamp us out of Chile. Then, since we are heading off into a very remote corner of Bolivia we needed to fill up with fuel and water, and buy some more food. The road out of Chile heads up the Andes mountains to the Argentina border at the Paso de Jama. The going was really slow as we were climbing straight up from about 8,000 feet. Along the way we passed shrines made up of pieces of the vehicles that had run off the highway. Near the top of the first pass we turned off on a dirt road for the Bolivian border.
At the simple immigration building we got our passports stamped and found out that we would have to stop at the customs office some 50 kilometers down the road. Oh yes, the border was at 15,000 ft elevation! While waiting for our stamps, we met a German family of travelers with three kids traveling for a year in their custom camper. They were really nice and even shared some of their GPS way points for the drive ahead, something that is very helpful when venturing into an area with poorly marked roads. When we reached the customs office, our GPS showed an elevation of 16,528 ft., a new personal record for us! A funny thing, when getting our vehicle permit, we noticed that we were the first foreign vehicle to enter at this border in over two weeks.
The scenery was spectacular as we passed numerous volcanoes, lagoons and salt flats, and in one area - huge, house-sized rocks that appeared surrealistically just sitting by themselves in a valley. These rocks have been named Dali Rocks, after Salvador Dali and his painting style. We continued another 40 km further to Laguna Colorada, arriving just as the sun set, finding the unmarked campsite using some GPS way points that we had received.
We spent this morning enjoying the fabulous numbers of flamingoes at Laguna Colorada. The lagoon gets its name from the red color of the algae and plankton that grow off of the minerals in the water: borax, sodium, magnesium and gypsum, plus the color of the flamingoes is also affected by the algae. There are three different types of flamingoes that live at the lagoon, the Andean, the Chilean and the James (or Puna). There were thousands of flamingoes, eating, walking, flying, sleeping. They didn't seem to be very disturbed by our presence, but as soon as we would get too close, they would slowly start walking away. These birds are so elegant looking and we really enjoyed visiting with them.
| | |
| --- | --- |
| | |
While we were watching the birds, a truck pulled up with a couple of Bolivian families. At first we thought they were out for a picnic, but then they started unloading piles of laundry to be washed. The lagoon has warm springs that run along its edge, and obviously the locals like to take advantage of the warm water. There is a large sign at the shoreline that says "no detergent", so hopefully these locals were using environmentally friendly soap.
| | |
| --- | --- |
| Later in the morning we continued on our way, bumping and sliding and tilting our way across the altiplano at 15,000+ ft. It was a real challenge to find our way, because there really isn't what we would call a road, but rather multiple tracks going in the same direction (or in slightly different directions, but joining together later.) The original road was cut many years ago, but it has not been maintained. Because it is in such bad shape, people have chosen other paths across the altiplano. So there are dozens of tracks all going in more or less the same direction. Sometimes they take different paths around a mountain, but they always seemed to find each other again. | |
Periodically we would see a road sign so we would know we were still heading in approximately the right direction. Four wheel drive and high clearance was very helpful. The going was very slow however, as none of the roads was in particularly good shape. It took us 1-1/2 hours to go 18km. That is averaging 12km/hr. (7mi/hr). We took a lunch break at some rocks that had been sculpted into weird shapes by the sand and wind. Several 4x4's filled with backpacking tourists drove by, giving us reassurance that we were in fact heading the right direction. About 4 hours later we stopped for the night near a small lagoon.
Today turned out to be the toughest day of driving to date. When we asked other drivers about the quality of the road ahead, we were told that it was ok with a rocky patch. We usually get very accurate information from other travelers. Well, as it turned out the road was in fact one of the hardest 4x4 trails we have even tackled. It involved quite a bit of rock hopping and steep angles. When all was done and finished we were proud of our vehicle as it handled everything exceptionally! We on the other hand, came through with frayed nerves.
Due to the high altitude, our truck is running roughly and using more fuel than we had expected so during the day we had to use our reserve 60 liters (15 gallons) of fuel. Hopefully this will be enough to get us to a fuel station.
Toward the end of the day, we finally reached the salar, the salt flats, that we have been heading to. Driving across the salt flats is a strange experience as all you can see is flat and white. Of course we wanted to follow the tracks of other vehicles as some areas of the flats are not as solid as they appear. At one point we moved just a few feet out of the tracks and immediately cut through the crust and our tires left deep cuts in the ground. Now we realized why there were so many other cuts just off the main track.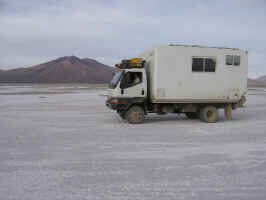 We passed through a military checkpoint as we came off the first salt flat. Our guidebook describes this checkpoint as filled with lonesome soldiers, and we felt it was an appropriate description. When we pulled up to the gate, about a dozen bored and curious soldiers came out to inspect us. One soldier climbed inside, a normal inspection, then asked if we would give them water. Of course we said yes, just give us your bottles to fill, but what they wanted was bottles of water, not just drinking water. We don't carry bottled water as we have a purifier, so they said thanks anyways. Then when we drove away, the soldiers had to all push the gate up to its maximum so that we could fit through, and it was a very tight fit. We made camp just a couple of miles away in the middle of the salt flat.
Checking our fuel supply this morning we felt that we had to make finding more fuel a priority. At the first pueblo we stopped at, we were told that although they didn't have any diesel, the next town which was the provincial capital would have some.
| | |
| --- | --- |
| We did find that this pueblo had a small archaeological site that we could explore. Not knowing what we would find, we went over to the area and were surprised that the site was actually a 3,000 year old necropolis where we were able to see mummies and burial urns still in place inside tombs made of blocks of fossil coral. | |
Arriving at the provincial capital, "Colcha K", We set off in search of fuel. A soldier offered to help and took us to a couple of houses where the residents usually have extra fuel as there was no fuel station in town. Hard to believe as this was the "capital". Neither of the places we went to had fuel available. We were starting to get concerned as we calculated that we didn't have enough fuel to reach the next "big" city. Everybody was friendly and wanted to help as we explained our situation. We were finally able to purchase about 30 liters (7 1/2 gallons) of fuel from the municipal supply - 55 gallon drums of fuel.
Getting directions to the next "on ramp" for the Salar de Uyuni - the largest salt flat in the world at over 3,000 square kilometers, we headed off. The "on ramp" turned out to be a mile long raised roadway that ended abruptly in salt water! We could not even tell how deep this ford was, but luckily a full size bus happened to be exiting just as we arrived. After talking with the driver and getting instructions on how to proceed, we nervously put the Fuso in four wheel drive and set off slowly through the water. Well it turned out to be really easy as the water was only 6 or 8 inches deep even though it looked bottomless. Coming out onto the flats again, we followed the bus tracks and set off across 40 miles of very white salt flats. Other than our GPS way points, the only guidance was the occasional pile of rocks or old tire left on the ground as markers. The air was so clear that we could see all the way across. It was strange to drive toward mountains only to have them not get much closer.
| | |
| --- | --- |
| | |
The "off ramp" at the other side of the Salar was similar to the on ramp, only the water portion was much shorter. It did turn out to be trickier though, when we first tried to take a drier path, we again broke through the surface and had to quickly reverse our course. At the off ramp the locals make a living scraping the salt off the ground then selling the course material. They make cone shape piles to let the water drain from the salt.
An hour later and only 20 km (12 miles) later, due to the poor quality of the main road, we arrived at the town of Uyuni and made camp in front of a hotel that had a terrific pizza restaurant, Minuteman Revolutionary Pizza. The owner, Chris, is a great guy, he is full of great info and makes a great Pizza! In the morning we'll go to the bank to get some money and then find the fuel station to replenish our diesel.